Our focus has always been quality over volume. Blane, Canada takes fewer, more compelling assignments by design.
Vision/Strategy | Marketing | Business Retention | Workforce | Cluster Sales Xcelerator
Blane, Canada is a management advisory firm. We focus on specific operating areas within economic development. We work with senior managers on problems they are unable to answer or too busy to properly address. Our assignments can include strategy, structure, management and/or operations.
Economic development consultants are like the punchline to the old joke on the value of experience: In the first panel, the consultant boasts of 12 years of experience. In panel 2, the thought bubble over the executive's head… 1 year of experience 12 times. Our professional contributions timeline clearly shows the Blane, Canada difference.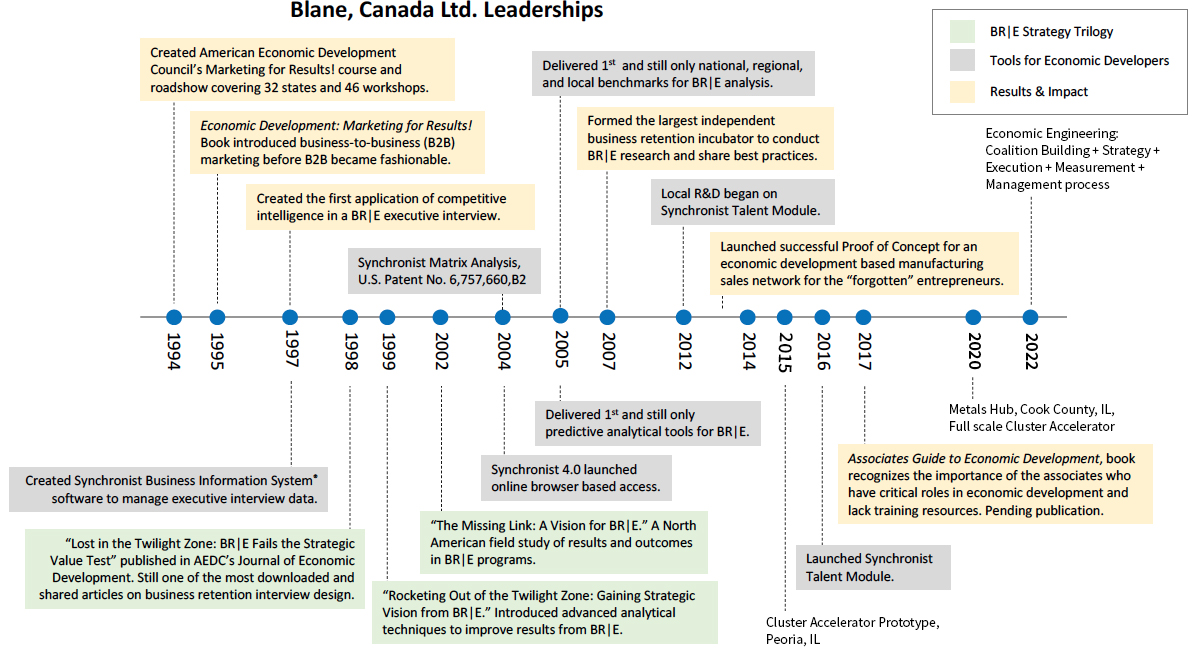 You have a talent for management consulting that I don't see in other economic development consultants.
What's the Blane, Canada difference?
Independent research. Our 20-year commitment to independent research projects and published results contributed to the profession.
Results-oriented. We do not solve problems with predetermined solutions. Our services are built around our clients' situation, not "stock products."
Structured, flexible process. We understand the need for a structured process as well as the need for flexibility to ensure any process conforms to the dynamics of the community and the clients' organization.
Frontline experience. As economic development professionals, we ran local and regional EDOs. We sat where you are sitting. We know accountability. We know Board expectations.
Success. Success is not always about digging the same hole deeper. A great deal of our success has been helping clients and the profession find new places to dig.
Let's Talk
Learn how our products and services can help you achieve your goals.
Get In Touch
Tell us more about your project and needs, and we'll tell you how we can help!
Schedule a Demo
What is your community's jobs number? Find out with Economic Engineering!
Sign Up for the Newsletter
Blane, Canada's 13 Tips delivers the storyline, the insight, the ah ha and the source link to go deep if desired. A six minute read draws widely from the environment influencing successful economic development and leadership in a changing world to keep you ahead of the game.